Covid-19 has had a huge impact on employment  and the marketplace as a whole; people are being furloughed, made redundant, companies are closing down and unemployment rate increasing, yet there are still opportunities within the marketplace to explore.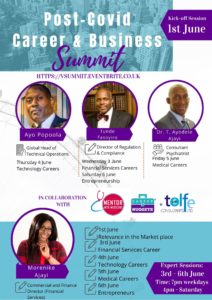 It started when Four friends Mr Tunde Fasoyiro (Director of Regulations & Compliance), Dr Ayodele Ajayi (Consultant Psychiatrist), Mr Ayo Popoola (Global Head of Technical Operations) & Mrs Morenike Ajayi (Commercial & Finance Director) got together one evening to discuss how they could give back to the community during this difficult period and highlight the fact that there are still opportunities to explore in the marketplace.
This meeting gave birth to the 'Post-Covid Career and Business Opportunities Virtual Summit', which was held as a five day summit 1st, 3rd to 6th June 2020. 199 people registered for the summit.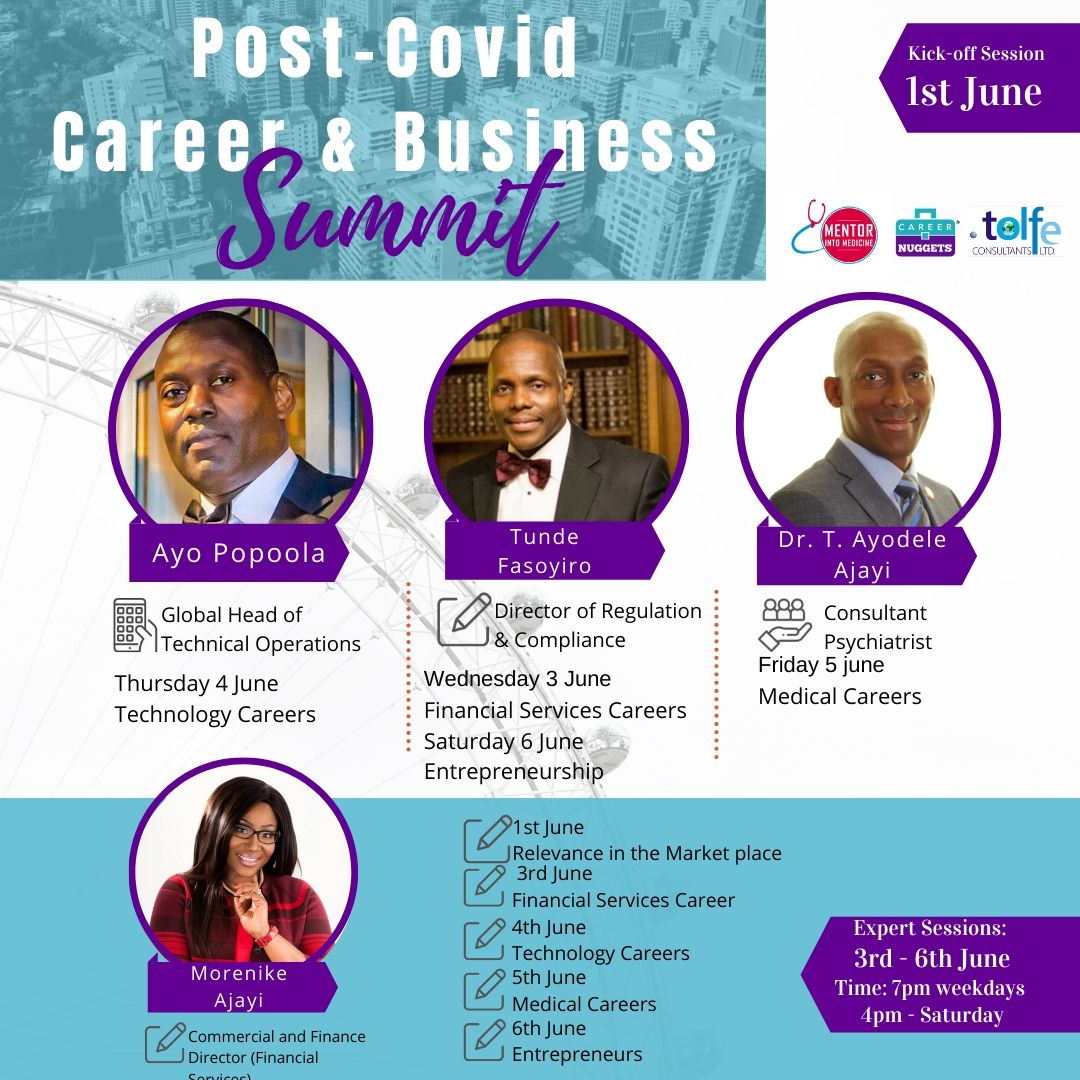 Each day of the summit had a different theme.
Day 1 – Staying Relevant In The Marketplace (General session), delivered by Mrs Morenike Ajayi
Day 2 – Technology Careers, Delivered by Mr Ayo Popoola
Day 3 – Financial Services Careers, Mr Tunde Fasoyiro
Day 4 – Medical Careers, Dr Ayodele Ajayi
Day 5 – Entrepreneurship, Mr Tunde Fasoyiro 
Below is a summary of the key takeaways from each session.
Day 1: Staying relevant in the marketplace
Change is constant – Be ahead of the curve
Have a good understanding of

 

your working environment at a macro & micro level – Understand the forces at play
Constantly self-assess and develop yourself – Sharpen your axe
Have a growth & positive mindset – Think outside the box
Build your professional network – Be strategic & intentional
Develop your online presence – Be "Visible"
Keep a "Success Journal" – Your Achievements are key
Have a Mentor – For Accountability & Direction (Career Nuggets is here to help you!!!)
Keep your CV up-to-date – Review every 6 months
The 'World Economic Forum' reports that you need the ten skills listed below to thrive in 2020:
Complex problem-solving
Critical thinking
Creativity

 

People management
Coordinating with others
Emotional intelligence
Judgement and decision making
Service orientation
Negotiation
Cognitive flexibility (Agility)
Day 2 Financial Services
Always take a long term view to your career
Build your network….."your network will determine your networth"
Make sure your CV tells a verifiable story
Research the financial services industry, its products and services and focus on your area of strength
Work on becoming a subject matter expert – carve out a niche for yourself
Find yourself a career mentor
Work with positively minded people ("iron sharpens iron")
Invest in training – up-skill where relevant
Use all sources to apply for roles i.e. recruiters/direct applications/previous employers/ex-colleagues/your network
Never ever give up
Day 3 Technology Careers
Tech offers great career and self employment opportunities post Covid. The rapid improvements, developments and growth we have seen in the sector is due to accelerate post COVID.
Sectors of tech that will flourish include E-Commerce, Cyber Security, Cloud Computing, Fintech, Streaming services, Data, Technology driven supply chain etc
A lot of the big Tech companies now offer certifications that allow you to transition from other non tech focused careers into Technology.
Business Analysis and Project management will also thrive post Covid as all industry sectors will focus more on expanding their Tech coverage
Careers in Software Development, Web development, DevOps, Cyber Security, Data scientists, Data administration and digital marketing will flourish post Covid.
A lot of the big companies offer Free training online to get you ready for certification.  Search online for things like AWS certification, cyber security training etc.
To be successful in Tech you need to be prepared for continuos learning.  Things change very quickly and you will need to continue to update your skills to maintain relevance in the market place.
If you are not technical focus on the operational elements of Technology like support, Business Analysis and Project Management.
Use this period to prepare yourself for the changes that Technology will effect in the workplace,  Study, train, start following experts, start blogging.  Keep pushing the boundaries.
Finally you can do it.  Do not give up
Day 4 – Medical / Healthcare Careers Presentation Summary
The Covid-19 lockdown presents a unique opportunity to reflect, review and re-route your career course and plans, no matter where you are currently.
Among the drivers of the healthcare delivery changes post Covid-19 are need for rapid digital transformation , diminished face to face consultations, realization that remote working is more feasible in healthcare than previously envisaged, the disproportionate mortality of BAME professionals from Covid-19 ; and the need for intentiomnal attention to health and wellbeing of healthcare professionals.
A recent Royal College of Physicians survey1 showed that telemedicine- use of virtual consultation media- practice has remarkably increased since the crisis. This provides skilling up opportunities for clinicians and also service delivery opportunities for providers.
In the emerging NHS "Reboot"2

 

– a term borrowed from Prof Donal O'Donaghue ( Royal College of Physician's Registrar), the anticipated hotspots include telemedicine and tele-healthcare, staff wellbeing initiatives, and BAME community health initiatives.

 

Other areas or specialties expected to experience rapid development and growth include

 

healthcare change management, public health medicine, public mental health, occupational medicine, infection control, psychiatry, clinical and organizational psychology and bereavement counselling services.
Research and anecdotal evidence suggests that resilience and a growth mindset are crucial soft skills for those anticipating a successful career progression and or transition post Covid-19.

 

A growth mindset contrary to a fixed mindset embraces challenges, puts more emphasis on learning more than talents, opines that intelligence can be developed, uses negative feedback as a pivot for growth; and uses resilience to forge a path to successes in the face of delays and detours.
In mapping a plan to seize the future, it is crucial to research opportunities ( see 3), take a career assessment test4 and find a mentor.
A thorough preparation for the next appraisal and job planning meeting looking at opportunities in which your

 

career aspirations meets your organization's goals can be crucial to getting ahead. Seeking secondment openings, sponsored study chances, and shadowing prospects are other options to consider for progression.
Quick win actions can include becoming a resource person in an area of sub-speciality interest, building a portfolio of CPD activities and experiences, and spear heading a Quality Improvement Project ( QiP).
Day 5 Entrepreneurship
1. Always take a long term view to your business plans
2. Research your target market
3. Design your product or service with customers' needs in mind
4. Keep start up costs to a minimum
5. Explore different sources of funding – friends/family, traditional banking, investors, crowd funding, government funding, interest free credit cards
6. Cultivate the habit of saving – "count your pennies and your pounds will come" (cash is king!)
5. It's a numbers game – use social media to build your customer base
6. Become techie savvy to enhance your business
7. Have a business mentor
8. Explore multiple streams of income
9. Remember your business plan
10. Never ever give up