Did you know that a recent study found 73% of all hires made through social networks were via LinkedIn?
There are more than 347 million users on LinkedIn; to stand out among a crowd It is essential to have a professional profile that will catch the recruiter's attention.
To build an eye-catching LinkedIn profile:
1. Choose an appropriate profile picture – since a photo can say a thousand words, make sure your profile picture is a professional, high-quality head shot. LinkedIn Career Experts suggests you are 14 times more likely to be found if you have a professional profile picture.
2. Create a memorable headline – for people who are viewing your profile, your headline should be a short, unforgettable way to explain yourself in a professional context. It should be about what you do opposed to what you are. Speak directly to the audience you want to attract and be specific. Here are some interesting and creative headlines:


3. Complete your profile – make sure to list all your experience, institutions attended, honors and awards received. according to LinkedIn experts Your Profile Summary allows 2000 words but it is recommended to ensure you write more than 40 words to make you more searchable. The summary is the first thing that people see when they go to your page. Keep it interesting and more importantly, current.
A stunning summary example: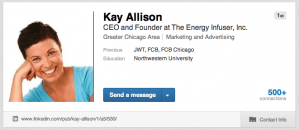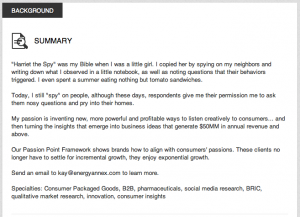 4. Use key words to fill the "Skills" section – selecting appropriate words that summarize your experience, skills, and areas of expertise will increase the chance of people finding you. Ensure you select words you are prepared to explain and give practical examples when it comes to the interview process. Avoid using buzz words such as 'motivated'; most people tend to use this word but fail to demonstrate how exactly they are 'motivated'!
5. Join groups and become active – find target groups, start or join discussions, and write thoughtful comments. Don't build and abandon your Linkedin page, remember, you must be active on LinkedIn and periodically update your information in order to stay on recruiters' radar!
Have any of these tips worked for your LinkedIn? We would love to hear your success story! Tweet us @CareerNuggets or email us info@careernuggets.co.uk
——————————————————————–
Attend the first Career Nuggets Master class – click here
Sign up to our newsletter here