I would like to say a big thank you to the presenter- Morenike Ajayi for the wonderful show. I started to watch and fellow the episode spiritually. By the grace of God I'm going to start a new job next month haven't worked for 13 years. My present job. I applied all that I've learnt in the show to progress my self forward. A better job with a better salary plus nearer to my home. Thank you once again. May you go from strength to strength IJN.
Awww look at my Big sis! You were definiatly a blessing to me some 15/16 odd years back when I needed some guidance in almost all aspects of life. You inspired me in so many ways and was always there to give sound advice back then. I can hand onheart say you played a major impact on where I'm at today from a career standpoint and will forever be grateful to you. Really happy to see you sharing your talent and gift with the world.
Lady M, thanks for being a blessing. You may not realise it but that day after service in G when you came and asked me " Pastor, what are you doing apart from ministry " changed my life forever. You gave me sound financial advice that I acted on (thank God) I'm still yet to recover. I have a tent making career now that is producing a solid stream of income. You should be getting a commission !
Career Nuggets Career Services
Take Your Career To The Next Level
Career Mapping
Aim: To help clients map out their career journey as they seek to progress onto better roles.
How: consultation, coaching, support and effective follow-up.
Click button below for more details.
Career Club
An information and support hub for Black and Ethnic Minority (BME) professionals
We will support you and provide you with range of services to help you grow in your chosen field.
Load of tips and hits along with videos and webinars.
Career Events
Have you just graduated? Or
Planning to make your next career move,
Looking for work, and you don't know where to start.
Register for one of our career events.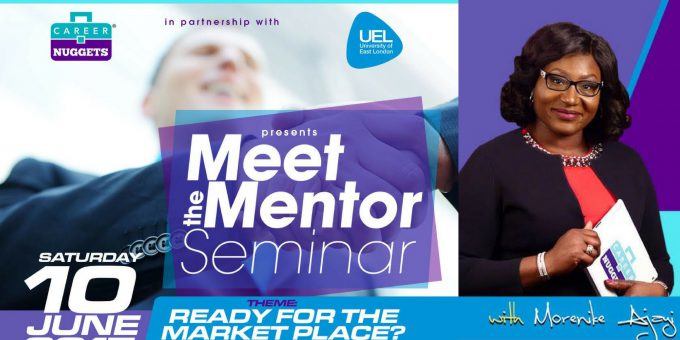 Career Nuggets in partnership with University of East London presents… The "Meet Your Mentor" Seminar. Theme – Ready for the Marketplace? The "Meet Your Mentor" Seminar: A Career mentoring Seminar for 16-25 year olds. Theme – Ready for the Marketplace. If you want to get to the top of your career, you need a mentor […]